The Ins and Outs of Summerhouse Renovation and Why You Must Choose Steel Doors for Yours in California
A summerhouse can be a luxurious addition to your living space. You can either opt for a modern, chic summerhouse or go classic with an English summerhouse. Either way, you will be able to enjoy the unlimited benefits it brings.
The concept of summerhouses isn't new. If you're a reader, you'll know there are countless summerhouse mentions in works of Charles Dickens and George Bernard Shaw. While summerhouses remain a big part of the English influences, Americans have widely adopted them too.
Strategically renovating a summerhouse can help you unveil its full potential. A well-decorated, efficient, and maintained summerhouse can be a worthy real estate investment. You can either decorate your summerhouse as a beach resort, a garden office, or a secret retreat space for yourself and your family.
So if you're planning to buy a new summerhouse this year or to renovate and revamp your current one, we strongly recommend you choose steel doors for a quick uplift.
At Pinky's Iron Doors, you can choose from an expansive steel door range to make your summerhouse stand out! Here are some amazing picks for you.
Steel Sliding Doors for a Minimal Look
Summerhouses in the 21st century are all about minimalism and sleek features. Many architects and home remodelers choose energy-efficient, functional products to make summerhouses more valuable.
Among the many ways to create a minimalist summerhouse vibe, our favorite has to be steel door installations. Pinky's Iron Doors' space-saving, chic, and aesthetically pleasing steel doors are worth every cent. They can be a great addition to your summerhouse's interior or exterior space.
Head over to Pinky's website to check out their entire steel sliding doors range. You can also get one customized according to your preferences!
Room Dividers for an Open Look
If you want to create a bright and well-ventilated summerhouse vibe, opt for steel room dividers by Pinky's Iron Doors. Room dividers have a very minimal, rustic, yet contemporary touch to them. They can help you brighten up the space and make it look more open and inviting.
Summerhouses are often used for BBQ parties, weekend getaways, and family retreats. Hence, remodelers and customers try creating an open floor layout for easy mobility. This is where room dividers can work wonders. At Pinky's Iron Doors, you can customize room dividers in any shape and orientation, along with your choice of clear or frosted glass panes.
Check them out now.
Black Steel Doors for the Uber-Chic Look
Summerhouses in California are usually painted in pastel colors and decorated with modern features. Among many getaway properties, beach houses, penthouses, and rental pool houses are the most popular ones. You can pair these with modern black steel windows to create a harmonizing interior. To accentuate this look, opt for ceramic planters, wall hangings, and line art paintings.
All of these summerhouse designs have a great tendency to complement black steel doors. These doors can be customized according to your requirement. If you don't want a matte black finish, you can choose among oil-rubbed bronze, heavy bronze, pewter, and silver pewter finishes. However, black steel doors are the hottest steel door design this year.
Black steel doors are available in different designs at Pinky's Iron Doors. California residents are loving their Air 4 bi-fold, Air 4 double full arch, and Air 5 double with sidelights.
To make your summerhouse the most sought-after property in the block, invest in a beautiful black steel door by Pinky's today! They also let you choose from a wide range of add-ons such as sidelights, transoms, and different glass textures.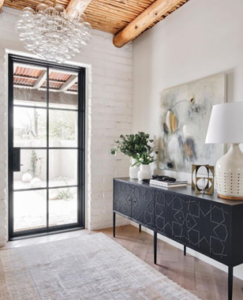 Pinky's Iron Doors Offers High-Quality Wrought Iron and Steel Doors in the US
Pinky's Iron Doors is a leading iron and steel door manufacturer in the US. The company has a vibrant reputation in steel door design and manufacturing in the market. They also offer modern iron doors with sidelights and transoms to help you create luxurious residential spaces. Stay tuned to their website's inspiration section for more ideas and tips.
Their high-end wine cellar doors, custom steel sliding doors, pocket doors, pivot doors, and patio doors can add a timeless aesthetic appeal to homes in California. Their customer service and fast shipping make them the best iron and steel door seller in the region.
Check out their full range of custom steel doors or contact them for more details now!
About the Author
The author of this post is a highly talented interior iron and steel door designer working at Pinky's Iron Doors. His far-reaching experience in the home remodeling industry enables him to share expert tips, tricks, and guides for homeowners in the US. Learn more about them on their website.